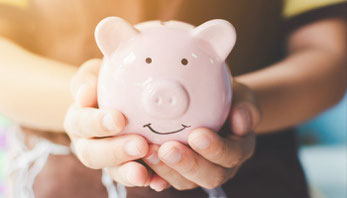 ---
From the age of 18, you become subject to the old-age and survivors' insurance (OASI/AHV) in Switzerland. Many are unaware that this is also the time from which you can start paying into the pillar 3a.
However, most young people between the age of 18 and their mid-20s are still in vocational training with a low income, improving their pocket money with holiday jobs or they are studying and staying afloat with student jobs so as not to be a burden to their parents. It is understandable that the last thing they are thinking of is investing part of their scarce income in the pillar 3a.
But is this deliberation correct? Would it possibly be worthwhile to pay into the pillar 3a at a young age, even if it is only CHF 100 per month? We will pursue these two questions in the following and want to give you - young, in training with low income - an incentive to start thinking about retirement provision.
Retirement provision in crisis
It is well known that the Swiss social security institution AHV and pension funds are facing major demo-graphic and economic challenges. However, the people rejected the 2020 pension reform package on
24 September 2017. It remains to be seen how the pension reform will proceed.
Therefore, many young people consider their chances of a receiving a sufficient pension in old age to be very low. Wouldn't this be just one more reason to take matters into your own hands and secure yourself for retirement age through a pillar 3a account, separate from the AHV and the pension fund?
A brief explanation of pillar 3a
In general, payments into the pillar 3a are possible as soon as you become AHV-liable (from the age of 18) and you are earning an income. The end of the possibility of payment is marked by reaching the normal AHV retirement age (65 years for men and 64 years for women). Anyone who wishes to work beyond this age may pay into pillar 3a for a maximum of five further years until he/she must receive the retirement benefit. There are various ways of investing in the pillar 3a:
You deposit the money into a pillar 3a account at a bank. Interest rates here are generally higher than on regular saving accounts, but can vary greatly depending on the provider. It is therefore important to compare the different providers before deciding on one.

 

You deposit the money into a pillar 3a fund, where you invest in various shares. Young investors have an important time advantage here, because any possible losses can be compensated for with the long vesting period.
Not so long ago, a completely digital pillar 3a solution was introduced: the 3a app called «Viac» enables you to open an account and invest your money in shares in just a few minutes, starting from as little as CHF 1. Especially with young people, the 3a app has proved to be very popular.
Furthermore, you can invest the money with an insurance company. While bank solutions offer more flexibility - payments can be adjusted and also interrupted - this is not possible with the insurance solution. On the other hand, you benefit from insurance cover that continues to pay into the pillar 3a in the event of disability, sometimes in combination with a death benefit insurance.
However, such insurance solutions are only suitable for people who can safely fulfil such a contract all the way to its conclusion. Young people are therefore advised not to take out such a tied life insurance policy and it is advisable to take out a flexible pension solution with a bank for the time being. Later, you can still have such risks insured separately without linking the insurance to pillar 3a plans.
There is a maximum amount that can be paid in per year (2019: CHF 6'826 for employees and self-employed persons with a pension fund and CHF 34'128 or a maximum of 20% of net income if you do not belong to a pension fund). The money that has been paid in is also blocked up until five years before retirement. This is why Pillar 3a is also referred to as a «tied pension plan». However, there are exceptions: An advance capital withdrawal is possible for the acquisition of residential property, in the event of emigration, when changing to self-employment or in the event of disability.
Main advantage: Saving taxes
Since interest rates on 3a accounts are currently at a historical low, payments into pillar 3a accounts are nowadays primarily worthwhile because of the resulting tax savings. Payments into pillar 3a accounts can be deducted from taxable income in the contribution year. The basis for this is the payment receipt issued by the bank foundation or insurance institution, which must be attached to the tax return. The interest and investment income from pillar 3a are tax-free and the capital that accumulates in pillar 3a over the years is also exempt from wealth tax for its entire duration. The tax savings may vary depending on the canton of residence and income class. Tax savings in low tax cantons, such as the Canton of Zug, are usually lower than in high tax cantons, such as the Canton of Neuchâtel.
Only in the case of premature or ordinary capital payments, will pillar 3a funds be taxed. They will be taxed separately, this means separately from ordinary tax or withholding tax. The tax payable is divided into a portion for federal tax and a portion for the municipality and canton. Cantons and municipalities have very different tax rates, but these are generally lower than the regular income tax rates. The capital paid out is then transferred to one' s private assets and must be taxed as such from there on. The income it generates must now also be declared in the tax return and is subject to income and withholding tax. Many consultants therefore advise you to keep several pillar 3a accounts so that the money can be withdrawn in different tax periods and thus the tax burden can be reduced.
Advantages for young savers
As you can see, early payment into a pillar 3a account has its advantages. The earlier you start, the more financial resources you will have at your disposal in old age. After all, small but constant deposits can result in considerable assets thanks to the compound interest effect. In addition, you can only buy in for one year at a time and since the maximum amount additionally limits the purchase sum, a missed payment cannot be
made later. So instead of investing nothing in one year and a large sum in the next year in pillar 3a, you should pay in a constant (albeit possibly lower) amount in this respect as well. The deduction from taxable income can also be valuable at a young age in order to keep the tax bill as low as possible.
On Cash.ch you can find an easy-to-use tax calculator where you can calculate if it is worthwhile to invest in pillar 3a, depending on your personal situation.
Conclusion
Ultimately, it is up to each individual to decide whether he or she can do without a small amount of his or her low monthly salary in order to invest in retirement provision. Because once the money is in pillar 3a, it is tied up and cannot be taken out even in urgent financial emergencies. Nevertheless, we hope we have shown that investing early in pillar 3a brings many advantages. It is therefore worthwhile to start thinking about retirement provision at an early age!