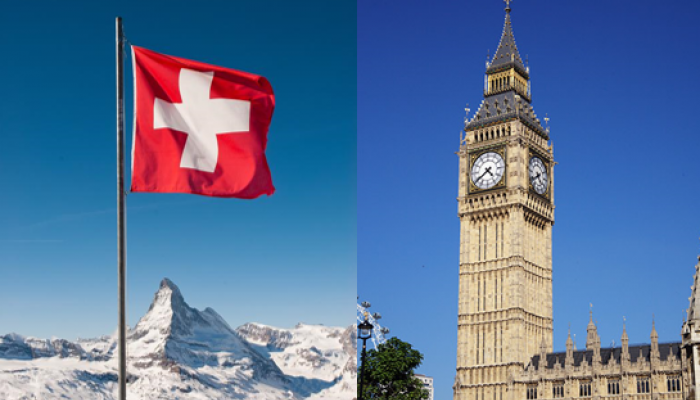 ---
A comparison of Switzerland's Lump-sum Taxation for Individuals and Great Britain's  «Resident but Non-Domiciled».
The lump-sum taxation system is an important instrument for Switzerland to attract high-net-worth-individuals. Similarly, Great Britain applies a simplified form of tax assessment on a remittance basis for persons with the tax status «resident but non-domiciled»
In the following these two tax systems shall be described in more detail and subsequently put in contrast in order to crystallise their corresponding advantages and disadvantages.
Lump-Sum Taxation in Switzerland
The basis for assessment under the lump sum taxation regime is the personal annual expenses of the individual. However, by legislative amendment a new minimum tax base has been determined by the legislator on the federal as well as on the cantonal level
The following prerequisites must be fulfilled cumulatively by an individual to qualify for the lump sum taxation regime in accordance with Art. 14 of the Federal Direct Tax Law:
The individual may not be Swiss citizen;
The individual must for the first time obtain an unrestricted tax liability in Switzerland (or after a 10-year-old absence); and
The individual may not pursue a gainful employment in Switzerland.
The taxable income under lump sum taxation shall correspond to at least 7 times the housing costs or for individuals residing in a hotel, 3 times of the costs for lodging and food. In any case a minimum tax base in the amount of CHF 400,000 is required for federal direct income tax purposes.
All cantons which currently use the lump sum taxation regime for cantonal taxes must also determine a minimum tax base. The minimum tax base for income tax purposes as set by the cantons varies between CHF 400,000 and CHF 700,000. On the cantonal level the basis of assessment for wealth tax purposes must also be further clarified. Most cantons have determined 20 times the amount applicable to income tax as the assessment base for wealth tax purposes. As long as the taxable person has not reached the retirement age yet, then he or she must also pay social security contributions in Switzerland. Social security contributions for persons not employed in Switzerland are calculated based on the reported taxable wealth, which usually yields in the case of persons taxed on a lump sum to the maximum annual contribution for non-employed in the amount of CHF 23,900.
The taxable income must correspond at least to all income from Swiss sources (so-called «control calculation»). This includes especially Swiss real estate and income derived thereof and capital assets invested in Switzerland and income derived thereof. Capital assets fall within the control calculation when Swiss withholding tax is levied on them. Furthermore, all income generated from copyrights, patents and similar rights exploited in Switzerland as well as retirement pensions etc. from Swiss sources are also considered in the control calculation.
Persons taxed on the basis of their lump-sum living in Switzerland will only be considered as resident for double tax treaty purposes, when the income on which treaty benefits are claimed for, are taken into account in the control calculation.
The double tax treaties with Belgium, Germany, France, Italy, Canada, Austria, Norway and the United States include further prerequisites that must be met so that persons taxed on the basis of their lump-sum living in Switzerland may benefit from the respective double tax treaties.
Under these double tax treaties a person shall only be deemed as resident in Switzerland, when all income from these States are actually taxed in Switzerland. This prerequisite is fulfilled, when the taxable person is treated as if all income having its source in these States are separately subject to ordinary income tax in Switzerland (so-called modified lump-sum taxation).
Taxation on a Remittance Basis in Great Britain
Foreign income of persons with the tax status «resident but non-domiciled» is not subject to income tax in Great Britain when it is not remitted to Great Britain. However, the tax status on a remittance basis is only granted, when a person subject to tax in Great Britain demonstrates a foreign «domicile».
The British term «residence» roughly corresponds to the Swiss tax law term of habitual residence. However, the term «domicile» is completely foreign to Swiss legal understanding. It denominates the State, in which a person comes from or alternatively, where it has demonstrably an intention to stay or return. It is obvious, that it is easier for a person that is neither born in Great Britain nor has the British citizenship to give proof of a foreign domicile. In the course of assessment tax authorities will consider signs such as the centre of one's life, close relationship or even real estate holdings are taken into account.
In principle persons that are taxed on a remittance basis cannot benefit from the extensive British double tax treaty network unless they remit income and assets to Great Britain. Detailed information and variations of this rule may be found in the applicable double tax treaty.
Tax Burden in Comparison
In the canton of Lucerne (municipality of Meggen) the assumption of the minimum tax base for income- and wealth taxes (including social security contributions) results in a total tax burden of roughly CHF 170,000.
Great Britain has no minimum tax base. However, the Finance Act defined in 2008 a flat-rate charge of GBP 30´000 (so-called «remittance fee»), when a tax payer claims the special tax status for at least 7 years. A maximum amount of GBP 90'000 is due, when a person taxed on a remittance basis has been resident in Great Britain in at least 17 years during the last 20 years.
It must be noted, that the marginal tax rate for big income earner is in average 10% lower in Switzerland than in Great Britain. In some cantons, the marginal tax rate is as low as half of what it would be in Great Britain.
Conclusion
In contrast to Switzerland the remittance based regime in Great Britain is not tied to citizenship and allows taxpayers to take on an employment in Great Britain. Additionally, the minimum tax burden is relatively low compared to the Swiss regime. With regard to treaty benefits the two systems are comparable.
However, the lump-sum taxation regime in Switzerland knows some considerable advantages. The relatively low marginal tax rate combined with the possibility to transfer capital assets and the income derived from it to Switzerland, without necessarily having to pay tax on it makes it an attractive alternative to the British regime. This is specifically true for persons that predominantly make their living from passive income abroad and at the same time wish to profit from the safe and highly developed financial centres in Switzerland.
Since Great Britain restricted the «resident but non-domiciled» status to 15 years from 2017 on, taxpayers in Great Britain will increasingly reassess their tax situation. Our comparison suggests, that Switzerland might be an excellent alternative for many of them.